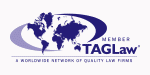 The Firm is also the exclusive member firm for the Principality of Monaco of TAGLaw, a worldwide network of prominent, high-quality law firms. The TAGLaw network has 150 law firms with over 300 offices hosting approximately 7,500 lawyers in over 100 countries. Since its founding in 1999, in 7 short years TAGLaw has risen through the ranks of legal networks to rank in the top three in all three categories: number of member firms, number of countries served, and number of participating attorneys. TAGLaw member firms have become known for the following characteristics:
Reputation for Excellence
TAGLaw members have a reputation for excellence. Membership is by invitation only, and firms are carefully selected based on their professional competence, commitment to client service, and prominence within the legal community. To maintain the highest quality, all TAGLaw members commit to the stringent legal standards set forth in TAGLaw's Charter. The law firms' diverse practice areas and highly rated lawyers are reflected in the broad spectrum of clients, which runs the gamut from government agencies and large national and international companies through small businesses and individuals.
Global Prominence
TAGLaw is one of the world's largest legal networks of independent law firms. TAGLaw's members are located across six continents, in more than 100 countries, and are in all the major commercial centers around the globe. They provide high-quality legal services to clients of all sizes including Fortune 500 corporations, small and mid-sized firms, as well as high net-worth individuals. Each member has expertise and professional experience in their particular jurisdiction that benefits fellow members of the network so they in turn can provide their clients with the security and combined strength of trusted legal service at home and abroad.
Power of Knowledge
The TAGLaw network has over 7,500 lawyers. TAGLaw lawyers are known for their professionalism and broad scope of expertise, and are uniquely positioned to advise clients on the challenges presented by conducting business in the changing global marketplace. TAGLaw lawyers are graduates from the top universities around the world. They have industry specific skills, and offer in-depth expertise in both broad and niche markets. Many serve on Boards of Directors, as government officials such as senators and ambassadors, and are involved in charitable organizations and community events.
Client Service
TAGLaw members are highly-respected, value-driven law firms with local market knowledge and expertise. Membership in TAGLaw enables firms to enhance their services by adding international reach to meet client needs. TAGLaw's 7,500 lawyers are committed to providing high-quality legal services to their clients and every member firm around the world. With this knowledge and dedication, as well as the close ties developed among members at the many regional and international TAGLaw conferences, member firms can confidently provide their clients with specialty expertise around the globe.