B&D has earned the right to membership in two major international legal networks:
B&D is the exclusive Monaco member of Lex Mundi, the world's leading association of independent law firms, and The Appleton Group Legal Network, or TAGLaw, a worldwide network of quality law firms. The following two links discuss some of the benefits of Lex Mundi and TAGLaw membership for the Firm and its clients.

With links to over 160 elite law firm members with over 20,000 attorneys in 560 offices in 99 countries, Lex Mundi members have the resources to build solid legal teams to handle even the most complex global legal transactions.
Whether your legal matter is in your backyard or half a world away, Lex Mundi is the mark of excellence for legal services globally. Lex Mundi, the world's leading association of independent law firms, provides you with access to more than 20,000 lawyers practicing in 160 elite law firms. These premier independent law firms provide legal representation and local market knowledge practically anywhere in the world.
There is a reason the most prominent and successful law firms are the most prominent and successful law firms. That is the profile of the Lex Mundi member, and that is the mark of excellence that Lex Mundi provides.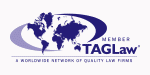 TAGLaw, with 150 law firms with 7,500 lawyers in 300 offices in 100 countries, is a recognized source of expert lawyers around the world for the international legal professional.
TAGLaw® is a global alliance of high quality, independent law firms with more than 135 member firms based in over 75 countries. Its 5500+ lawyers work out of 285 offices to provide a full range of legal services to clients all over the world. Founded in 1999, in 7 short years TAGLaw has risen through the ranks of legal networks to rank in the top five in all three categories: number of member firms, number of countries served, and number of participating attorneys.
Through these important legal network memberships and through relationships with other outstanding law firms and attorneys around the world, B&D is able to serve the needs of its international clients, large and small, regardless of where in the world their needs may arise or how large the transaction may be. The standards of quality among Lex Mundi and TAGLaw member firms and the strength of the working relations among their members mean that B&D clients can confidently select B&D and its Lex Mundi and TAGLaw colleagues for very sophisticated and complex transactions worldwide.